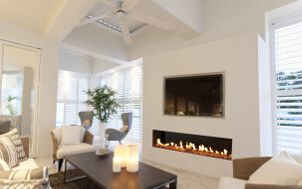 Ideal for modern and contemporary rooms, to replace an existing fireplace or as a new installation. Available in three different glass heights, and widths ranging from 25 to 100 inches. Indoor & Outdoor options. Flare Front linear gas fireplaces.
An innovative three-sided view of the fireplace makes the Flare Double Corner fireplace exceptionally stylish and also practical. The fireplace corners are clean and smooth made possible by Flare Fireplaces glass to glass technology.
Frameless Design For Clean & Slick Look.

LED Options Warm White or Multi Color

Taller Glass For Improved Viewing Angle Of The Flames.

60 Different Direct Vent Contemporary Fireplaces Natural Gas or Propane.